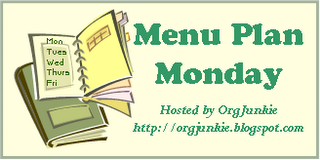 Welcome! I've participated in MPM for quite a while now, over on my old cooking blog, Amy's Cooking Adventures, but this is the first menu I've posted since I moved to this new blog last week.

Weight Watchers points are included when available.

MONDAY: leftovers
TUESDAY: my Tater Tot Casserole and stewed tomatoes

WEDNESDAY: new recipe: Italian Ricotta Tomato Pie (10pts as written, but I'm going to sub some lower-calorie ingredients.) and tossed salad

THURSDAY: new recipe: Crockpot Chicken and Stuffing (7 pts) and steamed broccoli (0pts)

Crockpot Chicken and Stuffing

(The recipe came from a WW forum called Bootcamp Buddies, (

here

), but since the recipe is buried way down in the thread, I thought I'd go ahead and just copy it here. I hope it's good- I don't usually post recipes that I haven't personally tried!)

6 boneless skinless chicken breasts

1 box stove top stuffing mix

1 can 98% FF cream of mushroom soup

1/2 cup water or chicken bouillon


Spray a 3 1/2 quart crockpot with cooking spray. Add chicken breast. Combine stuffing, soup and liquid. Spread over chicken. Cook on low 6-8 hours. (7 points/ 6 servings)

FRIDAY: broiled pork chops (2pts) with Italian potatoes/ mixed veggies (a frozen blend from Sam's)

If you came directly to this post, be sure you check out the rest of my new cooking blog, including the yummy strawberry pie recipe I posted the other night!
Head on over to I'm An Organizing Junkie to share your menu or see what others are eating this week!


P.S. If you know anything about soccer & can suggest a good "dummies"-type book or website, please pop over to my main blog for a minute and leave a comment-- thanks!