As usual, I've done my menu planning on Sunday, so I'm posting this a little bit early! :)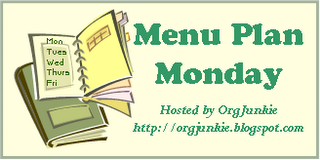 NOTES FROM LAST WEEK: It was a good week in my kitchen- all the new recipes I tried were good! :) The Oriental Baked Chicken and Beef Meximelts were both wonderful. The Flaky Chicken Wraps were good- I was surprised at how much flavor they had with so few ingredients.
I didn't do all the Weight Watchers points this week as I'm still trying to clear out some of the pantry and freezer, and 99% of these meals come from there. So, until I use up what we've got on hand, I'll have to just watch my portion control.

SUNDAY: kielbasa , corn, parslied noodles

MONDAY: meatloaf, mashed potatoes, green beans

TUESDAY: new recipe: Quick Chicken Divan

(Thanks for the recipe,

Barb

!) and biscuits.

This meal was held over from last week-- we wound up eating out one night.

SATURDAY: I always leave Saturday open for meals we skipped during the week.
Head on over to I'm An Organizing Junkie to share your menu or see what others are eating this week!