OK, so I'm actually posting this Sunday afternoon... close enough! :)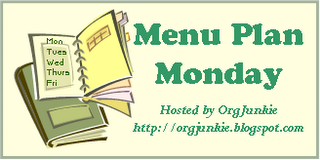 No notes from last week, as we didn't eat much of anything that wasn't a heat-and-eat kind of meal... I definitely didn't feel like doing any cooking. We're back to feeling healthy this week, though, so I'll be doing "real" meals again! :)
Weight Watcher points are included when I have the nutritional info available to calculate them. Some of my meals are a little high on points this week, but I'm trying to avoid going to the grocery store, so I'm using up what's on hand.
SUNDAY: new recipe: Oriental Baked Chicken over white rice (4pts) with steamed broccoli (opts) and pineapple chunks (1pt) *Note: the points for the chicken as written would be 14! But, I'll be using half the chicken and making other adjustments to reduce points to less than half that amount.
MONDAY: new recipe: Copycat Taco Bell Meximelts (5pts each) with stewed tomatoes (0pts)
TUESDAY: new recipe: Flaky Chicken Wraps (8pts) and mini ears of corn on the cob (2pts)
WEDNESDAY (soccer game night): family favorite: meatball subs in the crockpot (10pts as written- I'll sub lean meat and less cheese to lower points) and chips
THURSDAY: new recipe: Quick Chicken Divan (Thanks for the recipe, Barb!) and biscuits
FRIDAY: pot roast in the crockpot with gravy, mashed potatoes (2pts) and green beans (opts)

Head on over to I'm An Organizing Junkie to share your menu
or see what others are eating this week!