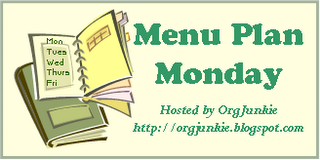 Notes from last week: The spicy chicken subs were good, though messy!
This will be a super quick menu, subject to lots of changes, as we're all sick in my house right now. If you've been here before, you'll notice this isn't nearly as detailed as my normal menu, and there aren't any new recipes, and there's nothing spicy. LOL- I almost didn't post a menu because this is pretty boring! I'm going for the very quick and easy meals this week, and I haven't even bothered to calculate any WW points yet. I'll also be making jello in large batches for the sickos. ;)
MONDAY: hamburgers (per DH's request) and homemade baked fries
TUESDAY: my chicken and dumplings
WEDNESDAY: sloppy joes, tater tots, baby carrots
THURSDAY: roast in the crockpot with veggies
FRIDAY: dinner out with friends

Head on over to I'm An Organizing Junkie to share your menu
or see what others are eating this week!