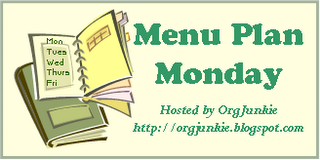 It's been a busy couple of days here, and it's now almost 4:30pm on Monday and I haven't had time to sit down and make my normal detailed menu plan. (I usually do it on Sunday afternoons.) So, here's the quick version-- it definitely reflects the busy week ahead! I'm higher than I'd like to be on WW points, so this menu might get changed later in the week to get the points down some.
NOTES FROM LAST WEEK: The crockpot Pepper Steak (5pts) was absolutely delicious-- see my last entry for the complete recipe along with my adaptations. We didn't care for the crockpot ranch potatoes & chicken-- we found it too bland, even though I added extra seasonings.
This week:
MONDAY: It's a "Heat and Eat" night: frozen lasagna (6pts), garlic bread (4pts), green beans (0pts)

TUESDAY: new recipe

:

crockpot spicy chicken subs

(7pts using chicken breast meat & including buns) and mini ears of corn on the cob (2pts)

WEDNESDAY: new recipe

:

baked cube steaks

(5pts), mashed potatoes (2pts), green beans (0pts)

THURSDAY: crockpot salsa chicken

(6pts) over rice (3pts) (or in flour tortillas, 3pts) and with stewed tomatoes (0pts)

FRIDAY: tuna helper augratin (6pts) and peas (2pts) --- This meal in particular is likely to change... but I always keep one "pantry meal" like this on hand for rushed days!
Head on over to I'm An Organizing Junkie to share your menu
or see what others are eating this week!