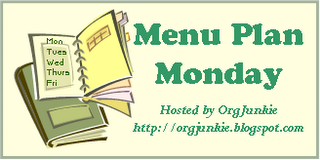 NOTES FROM LAST WEEK: I was surprised, but DH and DD both liked the Calzones, so that recipe is going into my "keeper" file. I wound up changing the WW Creamy Chicken & Pasta casserole a lot... here's my version.
Here's this week's plan. WW points are included if I can calculate them.
TUESDAY: new recipe: Crockpot Creamy Ranch Potatoes and Chicken (4pts) with steamed broccoli and red peppers (0pts) (LOL-- this has been held over from several past menus- it always seems to be the meal each week that gets bumped. I really am going to try this one! )

WEDNESDAY: broiled pork chops (6pts), sliced tomatoes (opts), parslied potatoes (4pts)

FRIDAY: chicken fajitas with lots of veggies (guess-timating at 8pts for 2 fajitas)

SATURDAY: It's my birthday, so we're having a late lunch at my parents' house with some of my sisters & my parents after DD's soccer game. For supper, we will most likely be picking up take-out from our favorite hot wings place. :)

Head on over to I'm An Organizing Junkie to share your menu or see what others are eating this week!


P.S. If anyone can tell me how to make the main part of my blog stop floating (I need a fixed width for the template, I think, but I can't figure out where to put the tag) I would really appreciate your help! I know just enough about HTML to get myself into trouble like this. :) EDITED 9/4: I gave up and changed the entire template! :)