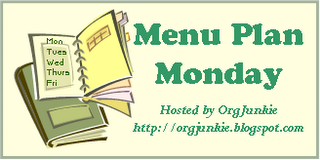 NOTES FROM LAST WEEK: We enjoyed the Crockpot Cajun Chicken Pasta, but I changed the recipe a bit to spice it up.
Here's this week's plan:
TUESDAY: Salisbury Steak, Mashed Potatoes, Mixed Green/Yellow Beans

THURSDAY: *new recipe* Crockpot Beef & Noodles (I plan to tweak this a bit, adding onions and mushrooms.) and Green Beans

FRIDAY: BBQ ribettes and corn

SATURDAY: I always leave Saturdays open.
Head on over to I'm An Organizing Junkie
to share your menu or see what others are eating this week!


This blog is PINK for Breast Cancer Awareness month!