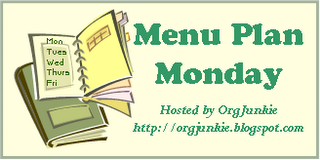 NOTES: Normally I start out with notes from last week, but I don't have any, because last week I was recovering from a minor surgery and I hardly cooked at all, let alone made any sort of menu plan. We ate a lot of fast food and "heat and eat" kinds of things... not good for the waistline or the budget! But, it's a new week, so here's my plan:

SUNDAY: We had turkey-bacon wraps (turkey, bacon, cheese, and ranch dressing in a tortilla) along with this *new recipe*: Hearty Cream of Tomato Basil Soup. The soup was wonderful- I'll definitely be making it again!

MONDAY: Easy Buffalo Chicken Sandwiches (made from chicken patties) and *new recipe* Baked Macaroni & Cheese with Stewed Tomatoes

TUESDAY: Cottage Pie and Biscuits or Cornbread


Cottage Pie
1 lb. ground beef
1 onion, diced
1 packet of brown gravy mix
4 cups mashed potatoes, prepared (I use instant or leftovers)
1 can green beans, drained
Optional: 1 small can mushroom pieces- add in with green beans if desired

Brown ground beef and onion in skillet, drain well. Combine gravy mix with amount of water specified on package. Add gravy to beef and onions, and simmer until thickened. Spray a casserole dish (I use a glass pie plate) with non-stick cooking spray, and spread meat mixture in the bottom of the dish. Top with green beans, then mashed potatoes. (Sometimes I sprinkle the top with shredded cheddar cheese.) Bake casserole at 350 for 20-25 minutes until bubbly.


WEDNESDAY: *new recipe*: Slow Cooker Cajun Chicken Pasta and Peas

THURSDAY: Steak Fajitas with all the fixins' and corn

FRIDAY: Lasagna (frozen), Garlic Bread, Steamed Broccoli

SATURDAY: I always leave Saturdays open.


Head on over to I'm An Organizing Junkie
to share your menu or see what others are eating this week!



P.S. This blog turned PINK for Breast Cancer Awareness month!