Yep, I'm actually posting this on Sunday... I don't know if I'll have time later tonight or tommorow! ;)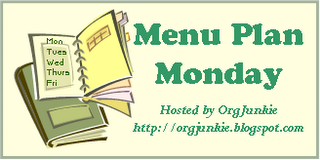 NOTES FROM LAST WEEK: I wound up creating my own Ham & Hash Brown Casserole recipe instead of using the one I'd picked out-- I posted my version here. The Crockpot Beef & Noodles would have been boring as written, but with added onions, celery, and mushrooms, it was OK. And I didn't get to make the Pizza Casserole... I'll save that one for another time.
Here's this week's plan:

Head on over to I'm An Organizing Junkie
to share your menu or see what others are eating this week!



P.S. This blog is PINK for Breast Cancer Awareness month! It's been fun being pink, but I'll be changing to a new template later this week. :)