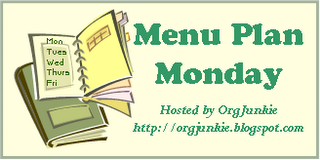 Notes from last week: It was a rough week in my kitchen! On Tuesday I had a bad night with my sausage gravy (it was just plain bad- don't know what I did wrong) and an even worse time with the biscuits-- the whole meal had to be tossed! And then, I wound up not making that new roast recipe until Saturday, and I really did not like the flavor of it at all. I can't remember the last time I've had two total flops in one week!
I'm planning on several favorites this week... all the main dishes are tried and true. :) I've calculated Weight Watchers points, although some are estimates. I try to stay at or under 12 points for supper.
Tamale Pie

1 lb ground beef

1 large onion, chopped

1 green pepper, chopped (I leave this out sometimes)

1 14 oz can tomatoes (I use Rotel if I have it on hand)

2 tsp chili powder

7oz package cornbread mix

1 can corn

1/3 cup milk

2 cups shredded cheddar (I used a Mexican blend)

Brown beef with onion and peppers, drain well. Add tomatoes and chili powder. Simmer for 10 minutes. Pour into a 2-quart casserole (I use a glass pie plate). In a bowl, stir together the cornbread mix, milk, and corn. Spoon over the meat mixture and sprinkle top with cheese. Bake uncovered in a 400 degree oven for 30 minutes. Makes 4-8 servings.

TUESDAY: Low-fat Italian Chicken & Veggie Packets (6.3pts) with alphabet pasta (3pts) This meal was held over from last week-- we wound up getting pizza one night.

WEDNESDAY: Breakfast for supper: corned beef hash (9pts) and eggs (2pts each). I might make omelettes or eggs-in-the-hole... or maybe some cinnamon rolls... we'll see what everyone's in the mood for!
THURSDAY:
Another family favorite:
my Mom's Crockpot BBQ Ribs
,
with mini ears of corn on the cob (2pts) and sugar-free applesauce (1pt)
FRIDAY: kielbasa (5pts), german potato salad (2pts), peas & onions (2pts)
Head on over to I'm An Organizing Junkie
to share your menu or see what others are eating this week!