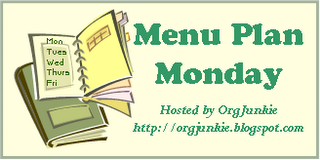 Notes from last week: For the first time in a long time, we really didn't stick to the plan. My husband had taken the week off, and we kept changing our day-to-day plans, so I wound up cooking whatever we were in the mood for each night. It was kind of fun, but we're back to business as usual this week, and I know I'll need a plan this week! :)

As you'll notice below, we're also getting back on plan with Weight Watchers this week:

Head on over to I'm An Organizing Junkie to share your menu
or see what others are eating this week!