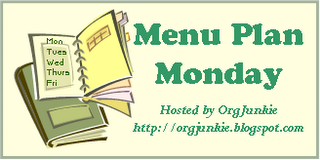 Notes from last week's menu: We were disappointed in the Italian Ricotta Tomato Pie. The ricotta & cheese part was OK, but the crust was terrible... very bland and blah... which really kind of ruined the recipe. I think it has potential if it was made on a really good, crispy crust.

The Crockpot Chicken and Stuffing turned out pretty good. By the time I got to eat, it had cooked for almost ten hours and was pretty well browned, but I think at the suggesting cooking time (6-8 hours) it would have been really good. DH and DD ate before I did, and they liked it, so I'll make it again.
I use Weight Watchers points to keep things in perspective- they are calculated below to the best of my ability. Twelve points for supper is the max I try to use, and I'm really pushing it this week!
This week:
Tomato-Mozzarella Salad, my way: Dice 1-2 large tomatoes (or cut grape tomatoes in half) and combine with a large handful of shredded mozzarella cheese. Drizzle low-fat Italian dressing over top to coat, sprinkle with approximately one tablespoon of parsley, and toss. Chill until serving time. Best served cold.

TUESDAY: sausage gravy and biscuits, fried apples

(And no, I'm NOT going to calculate the points on this one... I've been craving it for a while now, so to heck with points!)

FRIDAY: a pasta casserole that I froze a while back, with garlic bread & steamed broccoli

SATURDAY: I always leave Saturdays open.



Head on over to I'm An Organizing Junkie
to share your menu or see what others are eating this week!