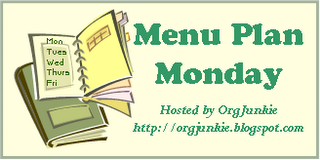 Notes from last week: I learned that Tamale Pie does not come out as well if you cook the hamburger mixture the day before and refridgerate it... I think it probably needs to be hot to help cook the cornbread topping. I also learned that my very picky one year-old son will eat hot German potato salad... go figure! :)
You'll notice that everything this week is made with ground beef or chicken breasts-- that's all I have on hand. Oh, that and one pack of ribs. Of course we could easily eat those all week, but we like to have a little more variety-- so this plan may change, based on what I find on sale at the grocery store this morning.
SUNDAY: We had a new recipe: Creamy Burrito Casserole and corn. The casserole was good once we spiced it up with some hot sauce and jalapenos, and I'd probably make it again.
MONDAY: new recipe: Crockpot Creamy Ranch Potatoes and Chicken (4pts) with steamed broccoli (0pts)
TUESDAY: family favorite: Deep-Dish Pizza Casserole and tossed salad
WEDNESDAY: Chicken for the Gods (see right sidebar for recipe) with wild rice and steamed squash blend
THURSDAY: Another family favorite: my Mom's Crockpot BBQ Ribs (see right sidebar for recipe), with mini ears of corn on the cob (2pts) and sugar-free applesauce (1pt) This meal was held over from last week.
FRIDAY: broiled pork chops, augratin potatoes, peas
Head on over to I'm An Organizing Junkie to share your menu
or see what others are eating this week!